Damascus Steel Women's Wedding Band Domed with 14K Yellow Gold Inlay | TIDEPOOLS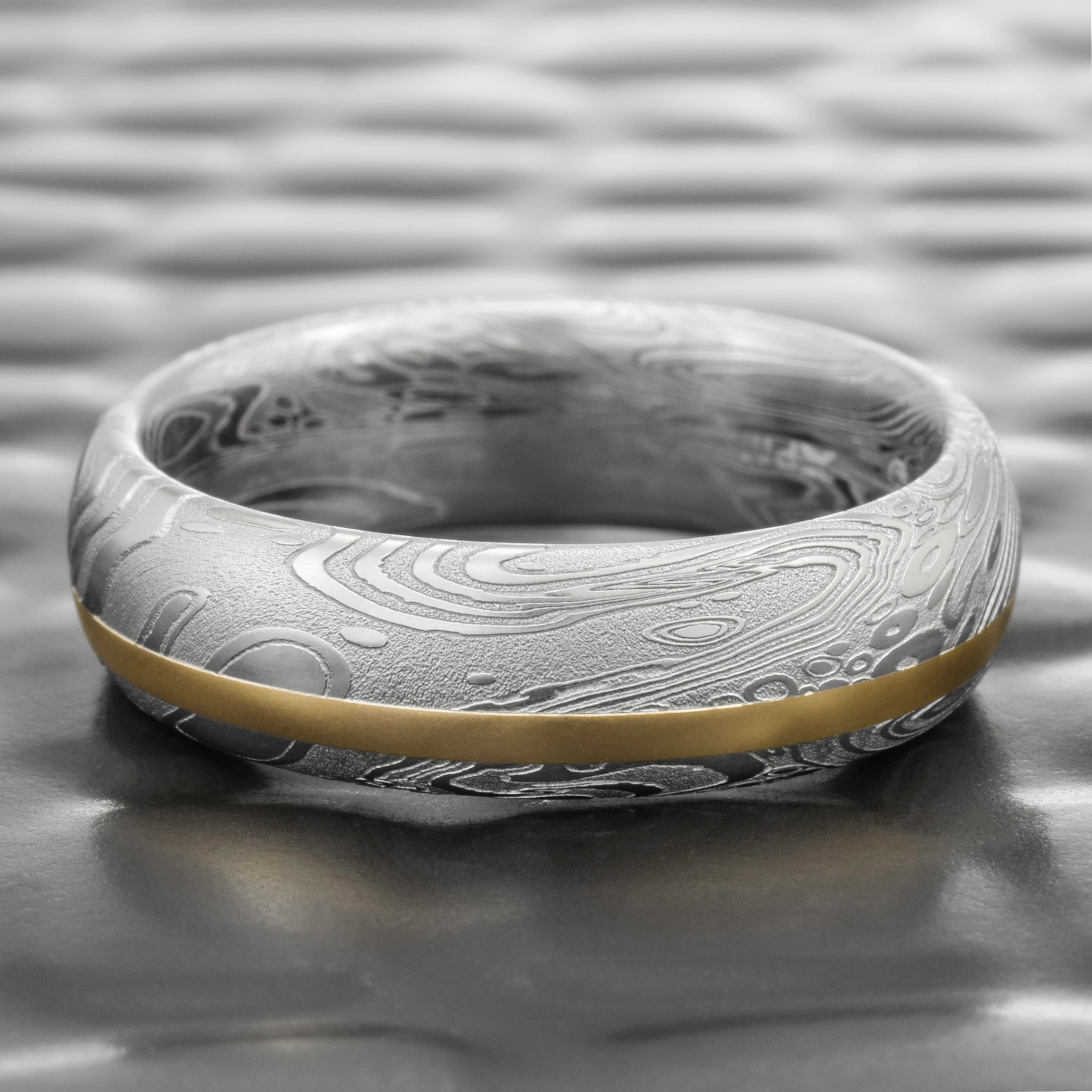 Damascus Steel Women's Wedding Band Domed with 14K Yellow Gold Inlay | TIDEPOOLS
The TIDEPOOLS pattern in this domed women's Damascus ring, has delicate detail, yet unrivaled energy. Get lost in the incredible depth of this ring, reminiscent of water flowing through a maze of crystal tide pools on a summer day. TIDEPOOLS is a signature pattern and one of many reasons that STEVEN JACOB Damascus Steel rings are the most original in the world. Beautiful and classy, this ring is a favorite of people with an affinity for water, the ocean and the tides. The addition of a slender offset 14K Yellow Gold inlay adds color and a refined accent to this incredibly unique ring. Please contact us if you would prefer a different inlay metal in your band. We offer options of inlays in 14K and 18K Golds, Platinum, Palladium, Silver and Tantalum.
A complimentary sizing band will be provided for all domestic orders to confirm your precise ring size when you purchase this item.
FREE FedEx domestic shipping and insurance for this ring!
TIDEPOOLS bands also come in matching men's sizes.
Sizable for life!
We are committed to using precious metals and gems from responsible sources. Please contact us if you have any questions or concerns about where the materials for your ring come from. View certificate here.
ADDITIONAL INFORMATION
TIDEPOOLS is a signature Damascus pattern created by and exclusively for Steven Jacob's jewelry. It is carefully developed each step of the way and forge welded utilizing our groundbreaking technology. After the initial bonding of the metals, we further coax out this amazing pattern by carving, twisting and more hot forge work. No other Damascus pattern on the market comes close to the complexity and natural flowing beauty of our TIDEPOOLS rings.
Not positive about your ring size? It's not too late to order Sizing Bands. Purchase a set in the Extras section of our shop.